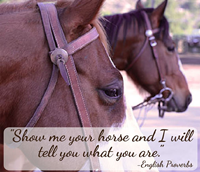 Do I need previous experience with horses?
No previous experience with horses is necessary. All riders will have an initial assessment of their experience and comfort working with horses. Riders will be instructed, as needed, for  all horse related activities ranging from putting on a halter to jumping a fence. Horsemanship  instructions and expectation starts from your first step onto the ranch.
What ages do you work with?  We work with riders ages 7 years and up.
Can you work with more than one person at a time?
Yes, this program is designed to be flexible and work  with more than one rider at a time. However, beginner riders are typically recommended to take 6-8  individual lessons before entering a group. These initial lessons will provide a foundation and extra safety when  working with a larger group.
Do you travel?
Yes, I am available to travel to other locations. When requested, I can work with riders and  horses at different facilities. Mileage  and time will be discussed and considered on an individual basis.
Do you teach English or Western riding lessons?
My background includes training in both styles. I spent my childhood riding Hunters and Jumpers  and am currently focused on Reining. However, the basics of good riding will transcend this distinction. Any of the classical riding instruction  offered at Salisbury Farms should provide a foundation and launching pad for  excellent riding in any discipline.
What  are your rates?
Horseback Riding Lessons: Private Lessons are between $65-85 per hour,  Group Lessons are $55.
Horse Assisted Psychotherapy: $100 per hour, some insurance accepted.
Who are considered at-risk youth?
An At- risk youth is any young person who has experienced stress or adversity. Stressors are any factors that challenge a young person in their growth and development. Examples include the death of a family member, divorce, bullying, problematic social interactions, poor academic achievement, learning difficulties, and environmental factors. This also includes difficulties with mood, body image, addiction, attention, self-injurious behaviors, and trauma.
Is working with horses a good learning experience for all children?
Every interested party will meet with Dr. Oleson and have an orientation session. Dr. Oleson will discuss the program and introduce basic horsemanship activities. This session serves as an assessment for the interest of the rider and the suitability of a rider for this program.
How long does it take to learn to ride a horse?
Learning to ride well is a life long endeavor.  Riding well requires more than just the ability to stay on the horse, or somewhat manage the horse.  Riding well means you have control of both your body and mind, and the horses body and mind, from beginning to end of your ride.
It has been my experience that for people taking 1 riding lesson a week, it generally takes 1- 2 years to develop enough competence that you can safely do all the basics of horse care and riding on your own (e.g. catch, tie, lead, tack up, ride, go down the trail).   This is not set in stone; each rider will progress at their own rate.  Variables that can increase your skill acquisition include natural talent, good instruction, and number of hours in the saddle.  The more you ride the better you get.  Here is a breakdown of each year and the milestones you should be working on.
First year- During the first year you should learn how to groom, tack, catch, tie, lead and ride the horse.  This does not mean you will meet mastery of all of these skills in the first year, but you should at least be able to define the previously mentioned terms.  In the first year, you should be able to walk and trot basic patterns and begin your canter work.
Second year-  During your second year you should continue with the tasks of learning to walk, trot, and canter, and then ride more difficult patterns and have increasing  accuracy.  You may begin to learn how to ride a horse in collection or in the bridle.  In addition, during this year it is a good idea to increase your exposure and education with horses by joining a pony club, attending a horse show, or attending a clinic.
Third year- During the third year of riding lessons, you will likely be at a point that you can safely own or lease a horse and ride independently.
Why do you work with new riders on the lunge line or in the round pen? 
All of my riders will get a strong foundation in their riding skills.  Most riders spend time in the beginning of their work with me either on the lunge line, in the round pen, and usually both.  During these types of activities my riders will learn to drop the reins, drop their stirrups, and develop their balance, timing, and rhythm with the horse through various gymnastic exercises.  Doing these types of exercises creates the basis for success at higher levels of speed, movement, or competition.  I liken it to learning to play the piano.   If you want to play well in a piano recital, it is best that you have learned and practiced your scales first.