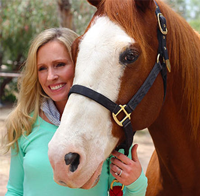 Dr. Amy Jane Oleson is the founder of  Salisbury Farms. She is a licensed  clinical psychologist and lifelong equestrian. She has combined her passion for working with horses, instructing, and helping others into many unique and versatile equestrian programs. She offers equine assisted psychotherapy and support programs, as well as classical riding instruction to children and adults who are interested  in learning how to ride and how to relate to these magnificent animals.
Clinically, Dr. Oleson has a focus in resiliency theory and behavioral approaches. Dr. Oleson has researched the use of horses  as an adjunct to traditional psychotherapy, completing her doctoral dissertation on the topic.  She is also a member or has completed training with PATH, EFMHA, EPONA, and EAGALA.  Dr. Oleson also has extensive clinical training and experience in traditional treatment models.  She has experience working with youth and adults in both her private office practice,  community settings and residential treatment centers, as well as running home programs and providing consultations and assessments for youth with Autism Spectrum Disorders.
As an equestrian, Dr. Oleson has been riding, training, and studying horses for 30 years. She has been a member of Pony Club, has competed in Hunter/Jumpers, and is a nationally certified Therapeutic Riding  Instructor.  She has been teaching riding lessons to students of all ages for over 10 years.  Her current personal focus is in reining.
Dr. Oleson is uniquely qualified to work with  students who are interested in learning more about horses and exploring the  opportunities for growth and adventure available in equine activities.
Meet Our Riding Horses
Our horses are the heart  and soul of this program. Each has been chosen specifically for sound  mind, body, and temperament, as well as a solid foundation of training. They  all bring something unique and beautiful to our work.